BriteClaims
Currently designing next generation claims handling software for BriteCore's suite of SAAS insurance administration tools.
Case studies on the design of BriteClaims: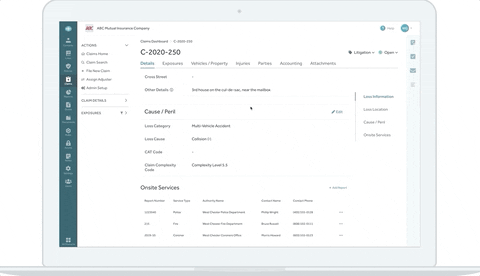 ---
Various eCommerce Websites
Designed and iterated upon various elements, pages and full sites for eCommerce clients including but not limited to: Ole Henriksen, Coldwater Creek and Rockport. Heavy focus on product page UX.
---
5/3 Bank Style Guide
Alongside helping guide design direction, designed and built an internal pattern library for a large regional bank incorporating styles used across all of their digital experiences. Focus was on giving designers and developers the tools they need to quickly find a style or guideline and implement into their own work.
---
Project | SEARCH
This was a design completed for an international non profit that helps individuals with special needs find employment in their communities. Completed full site design, asset design, logo work and also developed the site with a team during Southwest Ohio GiveCamp.
---
L'ux eCommerce Template
Template and components created for intended use with high end fashion eCommerce clients. A case study on this design can be found here.
---
eCommerce SAAS Platform
Designed a SAAS platform to enable TradeGlobal (now Jagged Peak) to do easy and efficient cross border shipping for businesses selling products online.
---
Manufacturing Blog
Designed a blog for Proctor and Gamble's additive manufacturing team that featured a tiled homepage view and pages to highlight the group and their locations
---
Mobile News Application
A conceptual mobile news application made with the intention of solving the issues presented by our ever growing mobile screen by moving the navigational elements to the bottom so that the application could be comfortably used by one hand. To read a case study on why this design was created, click here.
---
eXclusive Services
This was another project that was completed during Southwest Ohio GiveCamp. Tasked with designing a new website for a primary care and addiction services provider in Cincinnati. A case study analyzing the project and my role can be found here.
---
Mobile Social Networking App
A mobile focused social networking app based on sharing prayer requests with others.
---
Design Redux: Xbox Store
A redesign of the Xbox store to address usability issues while trying to find games on sale. Goals were to add data relevant to users, improve sorting and filtering and add relevant calls to action. A case study on this design can be read here.
---
Design Redux: Nintendo Switch
---
To learn more about my design process, please check here. If you have any questions about any designs or would like to request more, please reach out.
My resume can be found here.
Case studies explaining a handful of my portfolio pieces can be found here.